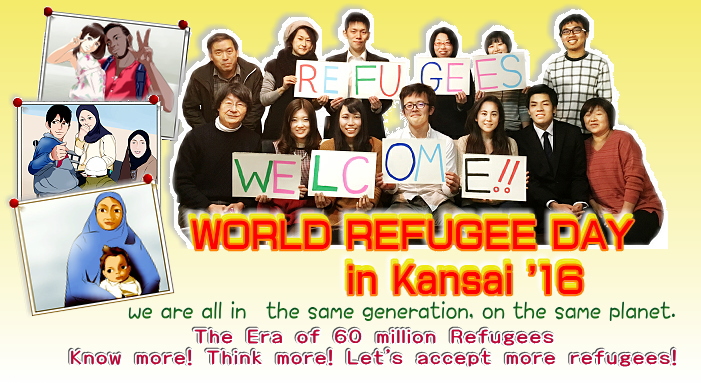 The meeting was finished safely. Thank you for much participation.
Report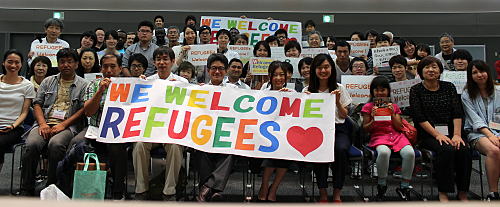 ---
Only 27 refugees accepted... Now is the time to accept more refugees!

All over the world, the number of people fleeing from conflict and persecution is increasing. According to the UNHCR, the number of forcibly displaced people had risen to around 59.5 million people in 2014. Within this global situation, in 2015, the number of asylum seeker swho applied for refugee recognition status amounted to around 7,500, which is the highest number yet for Japan.
However, the number of refugees who were recognized that same year was a mere 27 people. Many refugees are forced to lead unstable lives because they are not able to receive legal protection. June 20th is "World Refugee Day". Since 2006, we have started me "World Refugees' Kansai Assembly", and this year is our 11th anniversary.

Let's spread out our voice around the world and welcome refugees!

If you were a refugee, fleeing from conflict and persecution, after having travelled across the sea and finally arrived to another country, what would you like to hear...?
In countries such as Germany, where refugees have been accepted, citizens have welcomed the refugees, holding up signs written "Refugees Welcome". In this meeting, we would like to send out a welcome message to the refugees that have arrived to Japan.


---
Sunday June 26th 2016 13:30 - 16:30
Sumai Joho Center, 3rd Floor Map
Osaka-shi, Kita-ku, Tenjinbashi 6-4-20
Tel: 06-6242-1160

Event Details

General Statement:
A description of the conditions facing refugees in Japan, given by the organising committee.

Speech:
"Let's Enable Ourselves to Say 'Welcome'!"
Given by Katsuya Soda of Nanmin Now!

Keynote Speech:
"Japan's Position in the Age of Refugees"
Given by Hiroaki Ishii (Japan Association for Refugees (JAR); Forum for Refugees Japan (FRJ)

Speeches by Refugees

A Report on a Refugee's Court Case:
"Let's Have Court Cases that Meet International Standards!"
Given by: Teruo Naka, lawyer for R-san, an Afghan refugee who went to court to overturn the rejection of his application for refugee status.

Photo Exhibitions, NGO Booths, and more.

Cost:1000yen, 500yen for students

The event will be broadcast on Ustream, on the Nanmin Now! TV Channel.

Handbill outside

Handbill back
---

Please check the RAFIQ website for more details, and please contact us if you would like to endorse the event, or if you would like to have a booth at the event (please contact us before the 10th of June if you would like to have a booth).

We are currently looking for volunteers!
We would be grateful for volunteers to assist with the following tasks: setting up the venue; tidying up; reception duties; providing guidance to attendees, interpreting for refugees and foreign attendees.
If you would like to volunteer, please contact us at rafiqtomodati@yahoo.co.jp, providing your name, age, email address, and cell phone number. Please also tell us what kind of volunteering duties you would like to undertake. (Please contact us before the 15th of June.)

Let's Tell Refugees They Are Welcome!
We would like to take photos of everyone holding signs telling refugees that they are welcome in Japan. We'd really like it if everyone could take part in this!

pagetop

---
Organisers: World Refugee Day 2016: West Japan Assembly Organising Committee
Affiliated Organisations: BRC-J (Burmese Relief Centre Japan); PASTEL (Ritsumeikan University's Refugee Research Group);
J-FUN Youth Kansai (K.G.); The Social Guild; RAWA; Nanmin Now!; Neo Namin Cafe Netowrk; RAFIQ,
Thanks & Dream (An organisation for evacuees from the Tohoku Earthquake in western Japan); and others)
Supporters: UNHCR Japan; Amnesty International Japan; JLNR; JAR; FRJ; the Kansai NPO Alliance
Cooperators:Nanmin Now!; the Yoyogi Animation School, Osaka

Office:RAFIQ Japan (The Network aiming at the Coexistence with the Refugees in Japan)
mailto: rafiqtomodati@yahoo.co.jp
6-24 Oote-cho Takatsuki City, Oosaka 569-0078 FAX: 072-684-0231
---
Copyright (C) World Refugee Day 2016: West Japan Assembly Organising Committee, All Rights Reserved.