ABOUT US
Who we are
RAFIQ, established in 2002, has supported asylum seekers who fall under the category of 'refugee' in accordance with the 1951 UN Refugee Convention and its 1967 Protocol. We focus on refugees in the Kansai region not having any other supporters in Japan. We offer a broad range of services including legal support, social support, and even livelihood support to needy refugees. We believe that Japan should do its part better in the international community by taking a humanitarian approach towards refugee issues. Everyone including refugees should be granted basic human rights, and we have made policy recommendations to the Japanese government. As understanding and cooperation of citizens are also important in order to promote refugees' human rights, we actively engage in educational activities to let more people know about refugee issues in Japan. All RAFIQ members are unpaid volunteers. We, as one of grassroots civic movements here in Osaka, work constantly and passionately on refugee issues.
WHAT WE DO
Legal support
RAFIQ gives advices and/or assistances to an individual refugee in preparing relevant documents, such as an application form for refugee status, and in collecting evidences. RAFIQ members visit Osaka Regional Immigration Bureau every month to see asylum seekers/refugees in response to their request. A few places would be available for new people to join us.
Social support
RAFIQ is a small organization with no employees. We are all volunteers. There is no guarantee that we continue these supports, but currently in January 2019, what we do include:
Providing a shelter to refugees who has no support from others for up to six months
Providing some food with help from Food Bank
Helping them to go to medical institutions
Helping them to learn Japanese language and customs
Educational activities
RAFIQ give a lecture and run a workshop on refugee issues every month. We are sometimes invited to a school, a university, a local community meeting to give a lecture or run a workshop.
Policy recommendations
RAFIQ occasionally expresses our voice on refugee issues to a wider community, for instance, by submitting a remonstrance with other organizations and by gathering petition signature.
MONTHLY ACTIVITIES
Please note that a change in schedule could happen for any reason. You are asked to contact RAFIQ (rafiqtomodati@yahoo.co.jp) in advance to confirm the schedule and to make a booking.
Introductory lecture on refugees: "Let's know more about refugees "
Second Saturday of each month
Time: 14:00-
Venue: Nanmin House, Osaka
Cost: 1,500 yen (1,300 yen for RAFIQ members, 1,000 yen for students)
Prior booking is required.
Introductory meeting for volunteers
Second Saturday of each month
Time: 16:00-
Venue: Nanmin House, Osaka
Suitable for those who have attended an introductory lecture.
Meeting with refugees detained in Osaka Regional Immigration Bureau
Second Tuesday of each month
Time: 13:00-
Meeting place: At the ticket gates in Cosmo-square Station (Oaka Metro Chuo Line)
Cost: 1,000 yen (800 yen for RAFIQ members, 500 yen for students) only for first-timers. A short introduction (approx. 30 minutes) of the Immigration Bureau and detention will be provided for them.
Prior booking is required. You will need to bring a form of ID such as a passport or a residence card.
GLORRY (Glocal Links of Refugees and RAFIQ Youth) zemi
– workshop on refugee issues
The topic of a seminar will be 'if you became a refugee, …', or 'from leaving your country to being detained in an Immigration Bureau in Japan). A seminar will be limited to eight participants. RAFIQ members and anyone who has interest in refugee issues are welcome.
First Saturday of each month
Time: 14:00-
Venue: Nanmin House, Osaka
Cost: 500 yen
Organizer: GLORRY
Nanmin Café
Third Tuesday of each month
Time: 19:00-
Venue: Shuka, 1-1-18 Nakazaki-cho, Kita-ku, Osaka-shi
Cost: 1,500 yen including a light meal and a drink
Organizer: Neo Nanmin-café Network
OTHER ACTIVITIES
World Refugee Day Kansai Assembly
Every year, 20 June marks the United Nations' (UN) World Refugee Day. Around that time, many events for raising awareness of refugee issues take place across the world. RAFIQ organizes an annual assembly in Osaka. What would you do, if you encountered asylum seekers who had fled from an armed conflict and/or persecution? Why don't we learn more about refugees? Is there anything we can do for them? If you have an interest in refugee issues, you are most welcome. The actual date varies from year to year. No booking is required.
Nanmin (refugee) Day
Human Rights Day is on 10 December. We tend to consider a refugee as being far way from ourselves. Let's have a great time learning about their human rights through a film, music, cuisines from their countries, a lecture, and so on. The actual date varies from year to year. No booking is required.
Nanmin House Open Day
10 October is the day when Osaka Nanmin House, a RAFIQ office, opened in 2016. We open the office to public. You are welcome to various activities such as a lecture, a workshop, and a talk by a refugee. You can also enjoy the exhibition of RAFIQ's efforts during the year and cuisines from refugees' countries of origin. The actual date varies from year to year. No booking is required.
Earth Culture Festival (GLORRY)
GLORRY (Glocal Links of Refugees and RAFIQ Youths) picks up one country each year from the countries of origin of refugees supported by RAFIQ. We organize an event in cooperation with refugees from the country and relevant organization. We introduce visitors about refugees' situation in Japan and in the world. No booking is required.
Others
One World Festival 2019
One World Festival 2018
Special exhibition of refugees at Osaka Human Rights Museum (Liberty Osaka), 19 November 2016 - 18 March 2017
RELEVANT NEWS
The adoption of the Global Compact on Refugees (GCR)
It is great to see the member states of the UN General Assembly agreed on a new international framework, the Global Compact on Refugees on 17 December 2018, though the US and Hungary voted 'no' and three others abstained. The Compact is not legally binding, but it has arrangements for follow-up and review conducted through a Global Refugee Forum (GRF) every four years.
We will have to see how the review is going to work. However, considering the facts that there is no concrete numerical target, that the US did not agree the framework and that almost no Japanese media has covered the news, its impact on Japan's policy on protection of refugees might be limited.
| | |
| --- | --- |
| 17 December 2018 | UNHCR, States reach historic deal for refugees and commit to more effective, fairer response. |
| 17 December 2018 | UNHCR Northern Europe, Ten questions and answers about the Global Compact on Refugees. |
Revision to the Immigration Control and Refugee Recognition Act
The House of Councilors enacted a bill that would allow foreign workers to engage in unskilled labor on December 8, 2018. The revision represents a major policy change for Japan. We have encountered general issues of foreign residents in Japan through supporting refugees in Kansai regions. We were surprised with and critical of ruing parties' forceful attitude and urgency to enact the legislation with no meaningful discussions.
8 December 2018,

The Mainichi

Japan ushers in major immigration policy change with revision to boost foreign workforce.
ACCESS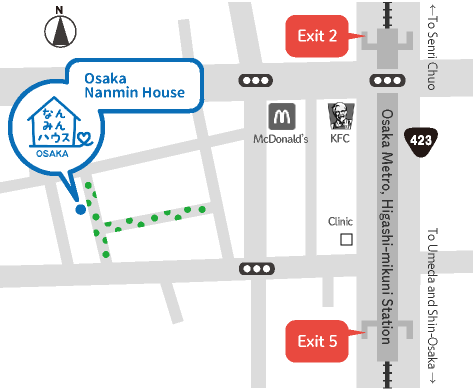 By Osaka Metro:
Approx5-minute walk from Exit 5, Higashi-mikuni Station, Midosuji Line
By JR train:
Approx. 15-minute walk from the West Exit, Higashi-yodogawa Station, Tokaido Line
〒532-0002
OSAKA NanminHouse, 4-9-13 Higashimikuni, Yodogawa-ku, Osaka 532-0002, Japan
TEL / FAX:06-6335-4440